Does your organization need to be more innovative? Have you been asked to lead innovation but don't know where to start?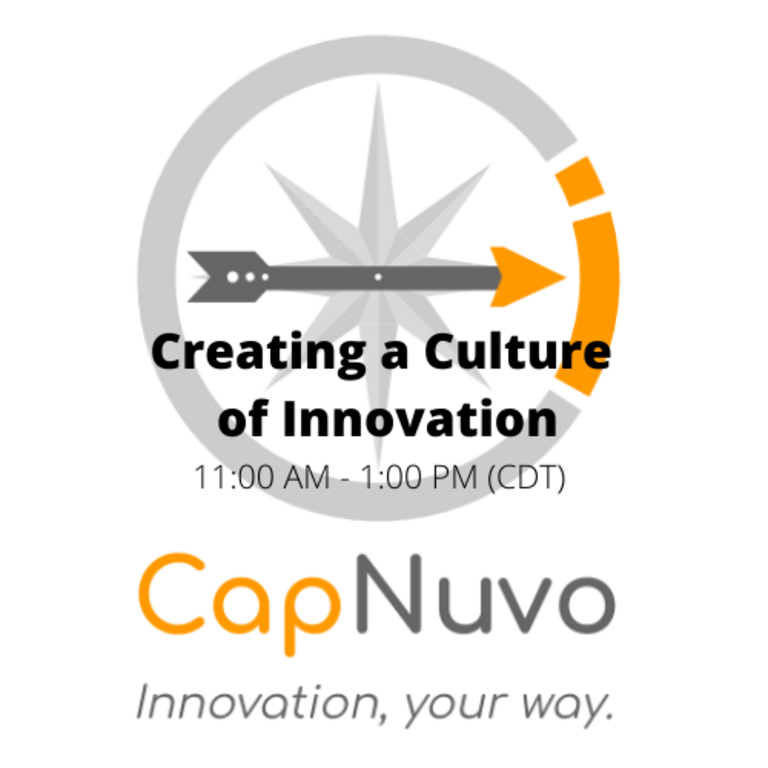 CREATING A CULTURE OF INNOVATION
11:00 AM - 1:00 PM CDT I 12:00 Noon -2:00 PM EST
A link to join the webinar will be sent by Wednesday evening, April 22nd.
Organizers: FACCMN & CapNuvo in partnership with the FACC national network

This program is FREE for FACC members
Support your local FACC chapter: Become a Member | Renew your membership
Who should attend?
Does your organization need to be more innovative? Have you been asked to lead innovation but don't know where to start? Or are you simply interested in getting past the innovation buzzword and want to learn how a culture of innovation is nurtured? If one of these questions applies to your situation, then this event is for you.
More than ever during these challenging times, innovation is key keeping business moving forward.
Please join us for an engaging webinar with guided conversations and group activities led by FACC member Thierry Boudet, Innovation Catalyst & Technology Change Leader. Thierry is also the Technology Director at the University of Minnesota.

The goal of the session is for participants to gain new information, learn from others, and leave with specific ideas on what they can do to drive, enable and sustain innovation in their own teams.

Thierry will share insight gained from personal research and experience, and will encourage a group reflection on how to create a culture of innovation in an organization.
CapNuvo provides innovation leadership training and advice to businesses and professional organizations. With a phonetic wink to my native French language, the name CapNuvo means a new heading, a new direction. Innovation is typically pursued to get to a better place or a better state, and CapNuvo encapsulates my commitment to point teams in the right direction as they navigate their way to sustainable and continuous innovation practices.
I was born in France and moved to the US in 2000, landing in the beautiful state of Minnesota and settling in the Twin Cities. You can find extensive information about my professional and leadership experience on my LinkedIn profile. To learn more about the genesis of CapNuvo and some of my early work, see this story on the Technological Leadership Institute's web site at the University of Minnesota.
Creating a culture of innovation in an organization is an inherently complex endeavor. I strive to clarify and simplify this journey. Operationalizing innovation and inspiring teams in their quest to become more innovative have become a personal mission.
Through research and personal experience, I developed a point of view on innovation that I am passionate about sharing. The point of view I promote is not a prescriptive model. Rather, it is a practical approach that highlights key conditions that must be met and suggests actions to take. It leaves great flexibility in implementation and incorporates continuous improvement mechanisms to increase the maturity of an innovation culture over time.
I refine this point of view through continuous research and by using every opportunity I have to learn from others, including through the workshops I lead.
If you seek to stimulate innovation in your organization or need to create a more innovative work environment but you don't know where to begin, start with CapNuvo.