STARTUPS - this is for you! Learn about the payroll tax incentive that helps startups, which ones qualify, tax benefits and more.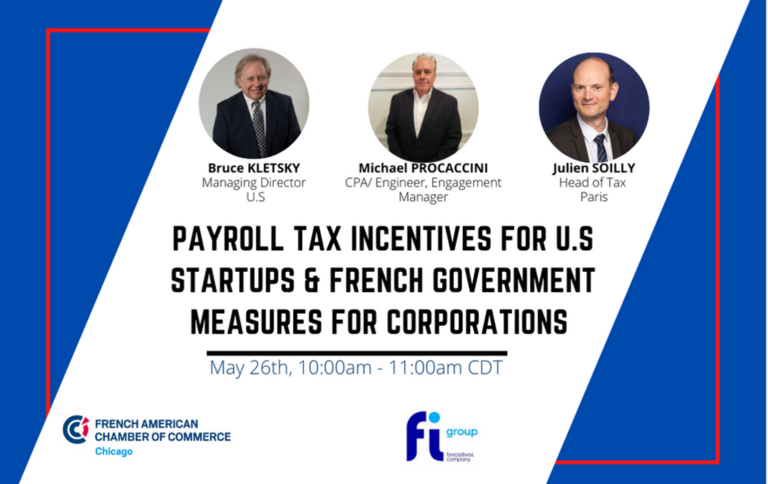 Payroll Tax Incentives for U.S. Startups & French Government Measures for Corporations

10:00 am - 11:00 am CDT on Tuesday, May 26th

Program offered in cooperation with FACCChicago
FREE for FACC members, $20 participation fee for non-members
Support your local FACC Chapter: Become a Member | Renew your membership
This webinar is intended for startup companies (established for 5 years or less), including startups that are clients of CPAs, banks, attorneys, CPA, and equity funding companies.
FI-Group is an international leader that specializes in innovative tax funding. Our focus is the R & D tax incentive, State & Federal Indirect Tax Incentives, and Real Estate/Personal Property tax appeals. The FI team consists of CPA's, engineers, IT, legal, and business operation specialists. With over 11,500 clients in 12 countries, our client's benefits are in excess of $1.5 B in tax savings annually.
Bruce Kletsky - Managing Director U S, will lead the discussion on the "payroll tax incentive" (FICA) credit that helps innovative startup companies grow, plus provide immediate tax savings. This incentive complements the CARES ACT.
Michael Procaccini - CPA/Engineer, Engagement Manager, will discuss the type of Startup companies that qualify, business activities that meet the R & D requirements, and the tax benefits
Julien Soilly – Head of Tax, Paris, France, will discuss the COVID-19 situation in France, and the current Government measures that are available for business. Discussion will be on "who and how" to qualify