Reserve your delicious "Beaujolais To Go" box & participate in 2 special programs: Georges Duboeuf Virtual Press Trip & la Soirée Beaujolais & Beyond!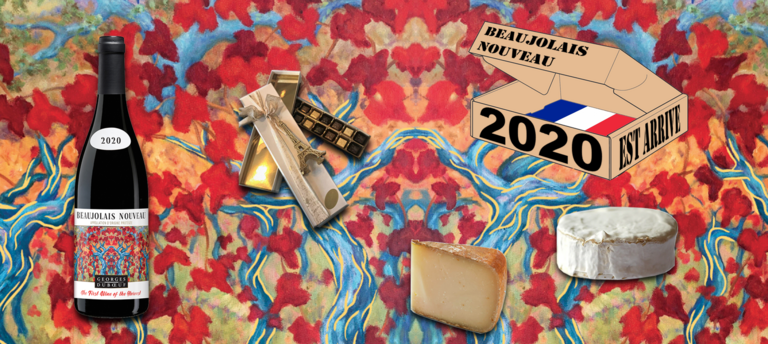 The FACCMN Annual Beaujolais Nouveau & Beyond Celebration is On!

REGISTER NOW
Your delicious "Beaujolais To Go" box includes:
Georges Duboeuf Beaujolais Nouveau 2020
Surdyk's cheeses (8 oz each): Pierre Robert (triple cream) & Comté, France
L'More assorted gourmet chocolates
Pick-up at several locations
on
Thursday November 19th & Friday November 20th
With the purchase of your Beaujolais "To Go" box,
you are automatically registered for 2 exclusive programs:
---
Georges Duboeuf Virtual Press Trip
Let us e-fly you to Beaujolais, France!

Departure date: November 20. 2020 - Time: 12:00 Noon CST
Your captain is Romain Teyteau
A curated wine program will accompany your flight!
Beaujolais Nouveau 2020
Beaujolais Villages 2019
Cru Beaujolais Flower Label Morgon 2016
For a true immersive experience, purchase the wine selection prior to the tasting.
The Beaujolais Nouveau 2020 is included in the "Beaujolais To-Go" box, the 2019 Beaujolais Villages is in stock at Haskell's & Surdyk's, the 2016 Cru Morgon is in stock at Haskell's (TBC at Surdyk's)
---
Soirée Beaujolais Nouveau & Beyond!
All aboard at 6:30 PM CST

Wine Tasting with:
Jack Farrell, Chairman and CEO of the family-run Haskell's liquor stores.

Beaujolais Nouveau 2020
Sancerre Benoît Girard 2019
Beaune les Epenottes, Henri de Villamont 2017
Pairing:
Traci Parent Nelson, Business Owner French Detours, "All about cheeses"
Kathy Ehrmann Bohnen, Owner/Founder of L'More Chocolat, Master Chocolatier
---
During these trying times, we've made the choice to give back to our event partners by not requesting product donations from them. Thank you for your purchases that help support our business community.
The FACCMN is an independent, non-profit, non-governmental and member-driven organization. We rely on memberships and fundraising to make business & educational programs possible. This Beaujolais & Beyond signature event is key to funding educational programs.
We look forward to raising a glass together!